Every day we carry out activities that we would like to remember in the future as sports maneuvers, achievements, meetings, walks, trips, places, etc. All these moments that excite us and have fun we can remember them through photographs, videos, selfies and also share them with who we want.
The advancement of technology has facilitated the use of many devices to capture and / or record many of the moments and situations of our life. However, these devices can sometimes be useless when we want to capture high quality images, images at several meters in height, etc. Thanks to the great circulation of images on the internet, a small quadricopter called Kudrone was created. This gadget promises to be our best cameraman anytime, anywhere.
Kudrone is the most affordable and powerful intelligent nano-drone in comparison to its predecessors. You can make video recordings at a maximum resolution of 4K and capture images with dimensions of 3280 x 2464 px. It also has GPS navigation, precision sensors and a rechargeable and interchangeable battery. It measures 3.7 inches so it can fit in the palm of your hand, and you can become an expert in less than 5 minutes as it is very easy to control.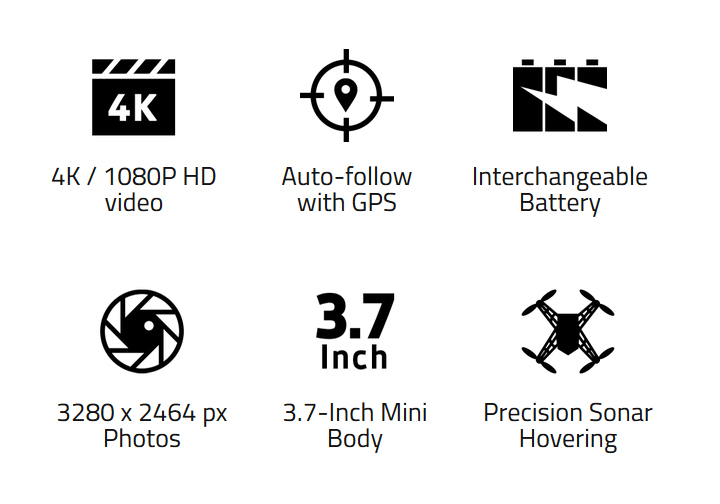 Its precision ensures a perfect capture of images, videos, or selfies. It has the ability to rotate 360° for panoramic aerial photos. Thanks to its live streaming technology you can instantly share your creations. Its GPS navigation, intelligent vision sensors, 3-axis gyro accelerometer, magnetic compass and barometer combine to achieve a perfect and stable shot every time.
This vehicle is controlled through a mobile application up to a distance of 30 meters. The application allows you to configure the functionality of Kudrone as you see fit. Among its functions we can configure our nano-drone to follow us automatically through its GPS navigation. In addition, we can synchronize it so that it automatically saves all the images and videos in the camera roll.
Kudrone is a great companion capturing and remembering the adventures of our life.