Gadgets are devices created to facilitate, provide comfort and tranquility helping us to perform our daily activities whether at home, at work or anywhere. The functionalities of these devices depend on the purpose for which they were created and towards which people are directed.
In the world of mobile devices such as laptops, cell phones, tablets, among others, gadgets are helpful because of its practicality of use, ease of understanding and its features. We have been taken out of trouble when we want to load our devices, move them anywhere safely, etc.
One of these gadgets has seemed very interesting for its functionality, practicality and ease. It is a bag to carry all our mobile devices and charge them. In addition, we can carry our personal documents among others. This useful and safe bag was created by the Moovy Company.
The Moovy Bag is a fusion of the professionalism of a briefcase and the functionality of an excellent messenger bag to power our mobile phones, tablets and other devices. It consists of built-in charging solutions, one is magnetic charge and the other is the retractable USB-C cable for charging the notebook hub. It has a thinner and lighter flexible solar panel capable of absorbing strong light; That is, in 1 hour you could charge 50% of an iPhone. In addition, it has a Powerbank of 25000 mAh with Smart IC of auto-load fast, Qualcomm QC 3.0 and Power Delivery 3.0 incorporated.
It is a wireless sharing device as it has extra storage via the Micro SD card and can share the content via USB-C Hub or through the mobile application available for iOS and Android. It has a smart organizational function, has built-in back and quick access pockets for passport, wallet, retractable keyring and travel transport card. In addition, it has 4 different modes of transport (Shoulder, messenger, carry, backpack).
Their magnetic screws allow us to safely and efficiently open and close their compartments. It has a functional interior and an anti-shake board, and a high density foam to protect our devices against bumps and bruises. Its materials are of high quality, it is made of fine Italian leather, anti-scratch and water resistant, and has zippers and stainless steel loops.
Power your Cellphone
1. Insert the tip into your cell phone (Lightning, Micro-USB, USB-C).
2. Slide your mobile phone into the front pocket.
3. The cable is instantly connected to the mobile phone through magnets.
Power your Tablet
1. Select the appropriate connector for your tablet (Lightning, Micro USB, USB-C).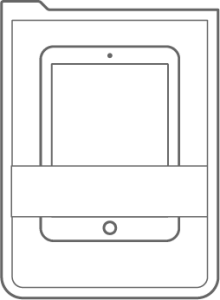 2. Insert the tablet into the tablet.
3. Slide the board into the Moovy Bag. The board instantly attaches to the Moovy battery through magnets and their tablet charges.
Power your Laptop USB-C inside your Moovy Bag or on your desk
1. Insert your laptop into its compartment and connect it to the USB-C cable.
2. You can also power your laptop on your desktop through the retractable USB-C cable.
Moovy Memory all-in-one: Hub, External battery and Wi-Fi extra storage
1. Insert the Moovy Go on your board.
2. Connect your accessories to Moovy Go USB ports.
3. Slide the board into Moovy Bag. The board is instantly connected to the Moovy battery via magnets.
Moovy Memory, external battery for your cellphone and portable Wi-Fi storage
Take your Moovy Go anywhere.
Turn on the Wi-Fi on your Moovy Go and free up space on your devices.
Share content with your friends and colleagues.
You can store, access, transmit and share video, music, photos and files wirelessly and without an Internet connection.
4 ways to juice the Moovy battery
Moovy Solar, the most powerful flexible solar panel
You only need to expose the Moovy Bag to sunlight.
The Moovy Solar absorbs light in the wider spectral range meaning it can capture light over a longer period of time, especially when sunlight may be limited.
Stable power generation.